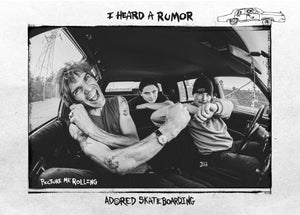 CHRIS VIDEO PART   Check out our kid Chris doing what he does! Being a one of a kind original!  This part rules and earned him the first ever Adored pro skateboard!  Love you and very proud of you and Pierce!
---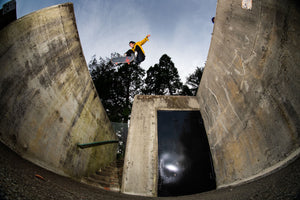 https://www.monsterchildren.com/a-quick-chat-with-corey-duffel/   Interview with my brother Kevin Duffel
---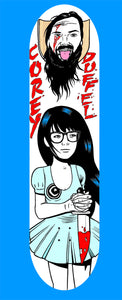 5/28/2021 Where to start?  This skateboard rules. Why did I do this graphic? Do I put my name on it? Is Jeremey Klein right? Should I start my own brand and do it my way? There are a lot of thoughts involved with this one.  In 2010 my friend Ed Syder submitted a skateboard graphic for my ten year pro anniversary to Foundation Skateboards that had my head mounted on the wall with Rachel holding the murder weapon in her hand. Foundation shut it down. They were not interested in it. I loved it of course because it had that...
---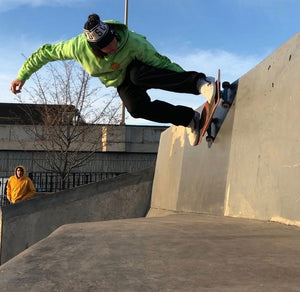 Lio is a lifelong skateboarder and music enthusiast.  He owns one of America's coolest indie record labels- Kanine Records's in Brooklyn.  He knows how to groove, whether it be behind the ones and twos or on the shred sled.  Lio is full of style and is part of the Adored family.  dig that groove baby!   here are some tunes for you to discover and enjoy.   Songs to listen to before skateboarding 1. The Sundays - Heres Where The Story Ends  2. Rocky Balboa - Theme Song (this song always gets me pumped to try scary tricks) 3. Skeggs...
---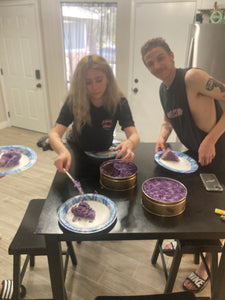 After 20 years of riding for Pig wheels I butchered the swine and caught a ride with the ghastly spectres known as orbs.  Kindred spirits.   Leaving a brand after 20 years is tough.  Feeling lost and unwanted is tougher. When I was 16 pig put me on and I was so excited to be a part of something that was special to me. As a kid I loved Pig because of the team. I was just an overall tumyeto fan.  Over the years the pig had gotten old and tired.  The life that once was there was now gone...